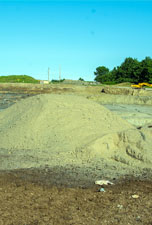 Odor-Shell® Complaint Eliminator
Leveraging a three-pronged approach of sealing, filtering and neutralizing, Odor-Shell® Complaint Eliminator was developed specifically to address industry's most challenging waste odors. Whether generated from landfill, food, animal, agricultural, or sewage wastes, Odor-Shell®'s environmentally friendly formulation kills offensive odors on contact before they become problems.
Odor-Shell® is a patent-pending, natural clay odor filter infused with neutralizers that, when mixed with water, produces a spray-applied slurry that dries like stucco. Odor-Shell® adheres to any surface, is effective in wet or cured forms, and can be used in any type of weather condition. Mixed product can be used effectively over several days. Its unique properties enable the use of durability enhancers to achieve coatings that perform for up to a year.
Odor-Shell® comes in both standard and 2X odor neutralizer formulations. It is packaged in 50 lb (22.7 kg) bags. Mixing and application is accomplished by using LSC Equipment or standard hydroseeding units.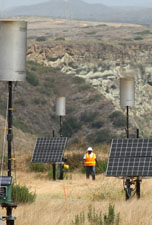 Solar Spark Vent Flares®
LSC's Solar Spark Vent Flares® provide reliable destruction of landfill gas and its attending odor. Specified by top engineering firms as a stand-alone solution, or as a supplement to more sophisticated gas extraction systems, Solar-Spark®'s portability, independent power, and failsafe technology allow operators to confidently place the flares in even the most remote and challenging locations.
Solar Spark Vent Flares® are also used as essential tools in the oil and gas industry and other commercial settings where reliable flaring is required.
Below you can download resources and legal documentation on Odor-Shell®, Solar Spark Vent Flares® and related products.